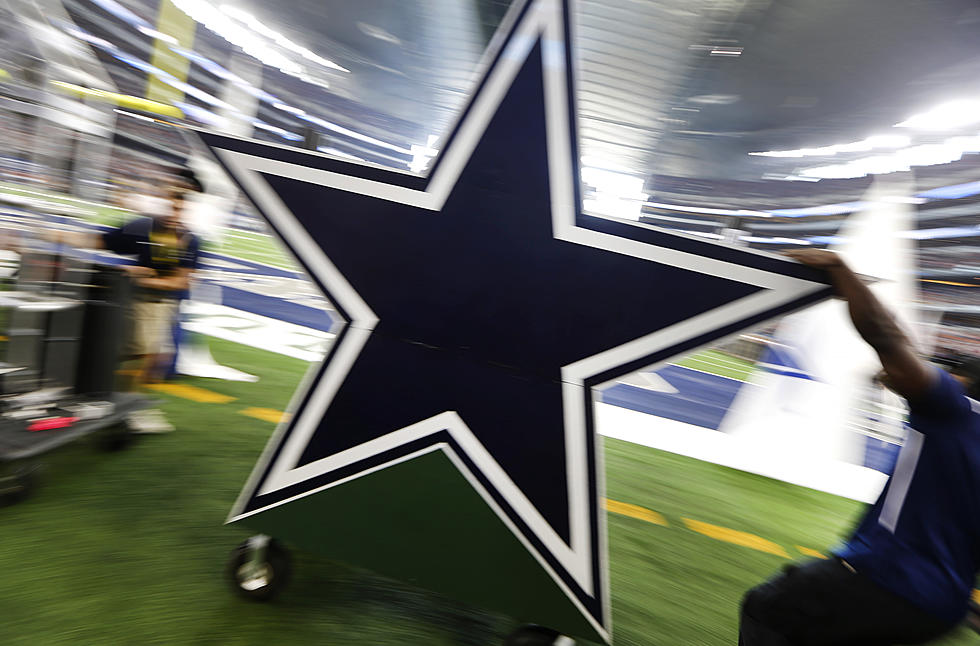 Join US105 at TGI Fridays in Killeen for Dallas Cowboys Watch Parties
Getty Images
NFL football is back and US105 is throwing a party each week at TGI Fridays in Killeen.
The 2021-22 NFL season is set to kick-off on Thursday September 9 as the Dallas Cowboys travel to Tampa Bay to take on Tom Brady and the defending Super Bowl Champion Buccaneers.
Where are you watching the games this year?
Come hang-out with US105 at TGI Fridays for every Dallas Cowboy game this year. Win or lose we are going to have a great time.
TGI Fridays is located at 2801 E Central Texas Expy in Killeen. There'll be food and drink specials during the game and we'll bring the prizes.
TGI Fridays brings the world to your table with their Global Bar Crawl.
Explore appetizers and drinks inspired by Fridays Around the World.
Like: Potato Skin Passport and Around the World of Dumplings.
Or the excellent Game Time Starter of Wings Roulette
TGI Fridays has $5.00 drink specials too, just perfect for the Watch Party, like
Zeke the Freak
Prescott Punch
The Endzone
TGI Fridays also now have the popular lager, Yuengling!
And TGI Fridays is also offering Kids Eat Free with a $20.00 or more purchase.
TITLE Boxing Club in Killeen will be with us all season with free trial memberships. TITLE Boxing Club Killeen provides authentic boxing workouts. All of our classes are trainer led and non contact. You'll have us with you every step of the way as you challenge yourself, physically and mentally to be the best version of YOU
All fitness levels are invited to try a FREE class and get one the best full body workouts you've ever experienced
Swaggy T's is also on-board with us all season.
- One-stop Shop for all things customizable
- Specialize T-shirts for your local schools or favorite sports team
- Authorized vendor for KISD
- Offers Special Discounts for Teachers, Students, Military and First responders
- Offers discounts for bulk-ordering
- They have crafters' supplies, like heat-transfer and adhesive vinyl's.
- They can customize on flat and rounded surfaces, such as blankets or mugs.
- NEW LOCATION IN THE ELM SQUARE CENTER AT 501 WEST ELMS ROAD
- Open Monday – Friday, 10a - 6p
- SWAGGYTS.COM
Plus US105 will bring out some cool prizes as well.
The Cowboys are primed for a good year and we are primed for all the fun. Our 1st watch party is Thursday, September 9 starting at 6:30p with kick-off at 7:20p
US105's Dallas Cowboys watch Parties all season long at TGI Friday's in Killeen!
Texas' Top 15 Pro Athletes from the Past 25 Years in No Particular Order
CHECK IT OUT: 100 sports records and the stories behind them
TACKLE THESE: Check Out the Best Uniforms In Each NFL Team's History