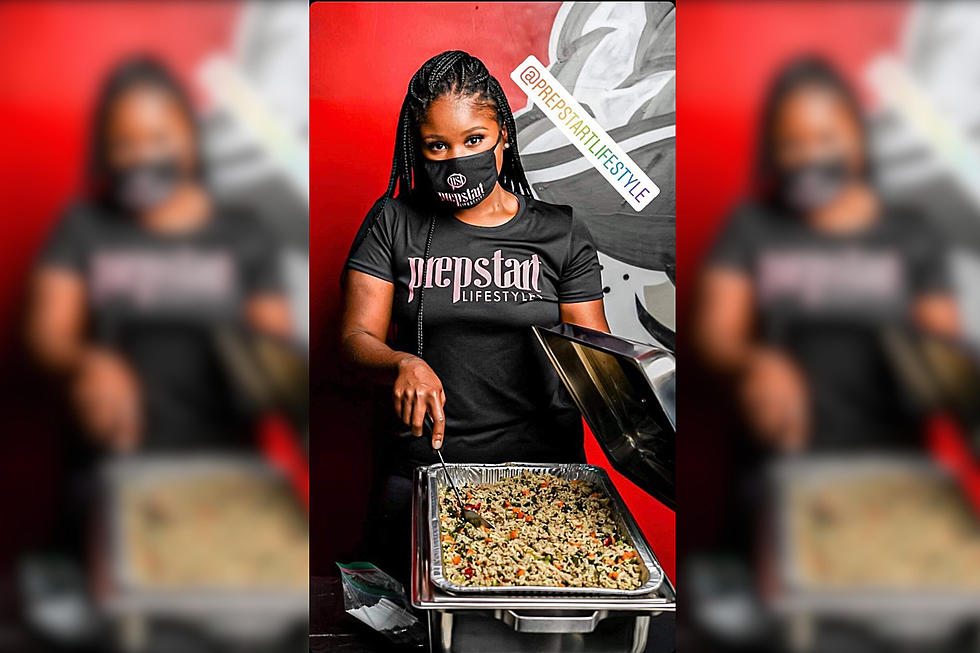 Yum! Killeen's Top 10 Female Chefs and Caterers You Most Know
Courtesy of Ashely Newman
When we talk about culinary warriors that make you literally suck your fingers after eating their food because it's so finger lickin' good, or remind you of the phrase "tastes so good makes you wanna slap your mama!", these talented ladies of Killeen are who we are thinking of.
I can say from personal experience that I've enjoyed meals prepared by every single one of these young ladies, and they do not disappoint.
Some are private chefs, some of them are successful caterers, and some of them are popular restaurant owners. Regardless of what type of role they play in the culinary field, each one of these talented women understands the objective: to give Central Texas amazing food.
I am more than honored to introduce you to my first Top 10 Best of Killeen.
THE "WINGLADY"
The first chef I would like to introduce is the Southwest "Wing Lady" Stefane  Phillips, a.k.a Miss Steff P.
How'd she get the nickname "Wing Lady"? Well, the woman's wings are some of the most succulent, immaculate wings you'll ever have! They are great for parties, weddings, or shoot, you should even have them at my funeral.
Stefane's been cooking since she was a little girl. When she got older she started cooking for her whole neighborhood, where they named her the Wing Lady. Now she's the owner of Peezy's Kitchen.
Even though Steff P is known for her wings, this lady gets serious in the kitchen and is great with other dishes as well. Not only does the Southwest of Killeen thank you for your amazing food, but all of Central Texas as well!
TB'S TASTEE EATZ
I've never disliked anything prepared by this woman, and I'm not exaggerating when I say she is one of those chefs who could mix dirt and sand together and turn it into a culinary masterpiece.
TB is a mother of two and the owner of TB's Tasty Treets. You can taste the patience and preparation that goes into every dish she serves.
When she's not feeding celebrities and comedians, she's being a mother two children with autism. Caring for them keeps her motivated, and the desire to overcome all parenting challenges as a single mother and business owner inspire her to fight and refuse to fail.
 MS. TILLIE MARIE'S 
I remember the first time I had Tillie Marie's food. I could sense immediately that this food was made with a history behind it. You can tell that this young lady has been inspired by her elders, and when I told her I was writing this article, that was something she felt was important for my readers to know. I agree, and can confirm that you can definitely taste the history behind her meals.
I'm a big fan of her fried fish, but she also makes a great homemade gravy from scratch that's well known. She's also recently started serving delicious daiquiris.
You need to try Tillie Marie's food if you haven't already. Every day, she's making her grandparents and all her ancestors proud with every plate served.
THE RAJUN CAJUN
This food this woman right here cooks up definitely matches her energetic and flavorful personality. Anita Gilbert, a ball of lightning from Louisiana, now calls Killeen Home, and is practically a mad scientist in the kitchen. She does crazy but amazing things with spices.
Anita's making sure that Central Texas gets all the Bayou flavors it's been missing. My family also comes from Louisiana, so I know the good stuff when I taste it. I'm a fan of her crawfish, gumbo, Po boys, and they all remind me of home.
Anita operates out of her home, so you're literally getting home cooking when you deal with her!
HEALTH IS WEALTH 
Now I'm all about making sure that my body stays right and tight, but sometimes the food that we decide to eat doesn't allow us to be great. But when I say that Ashely Newman, owner of  Prepstart Lifestyles, has the best of both worlds, I'm not kidding.
Not only does she give you healthy choice meals, but they're actually delicious! She even has the awards to prove it. Honey, this gorgeous woman and her husband make some absolutely delicious meals that will make you lick your prep bowl clean.
Ashley Newman's food will not only have you full and satisfied, but you won't have to feel guilty afterwards. We appreciate the Newmans for making sure that Central Texas remembers that health is wealth.
DON'T SLEEP ON GOOD EATZ!
Don't you dare sleep on Good Eatz! Alicia Simmons is a woman who is what you call a jack of all trades. She dabbles in several professional endeavors, but because the topic here is food, we'll just talk about her great cooking.
For instance, she has a seafood pasta that would literally make you cry tears of happiness. She is also the administrator and creator of the Bell County Food page on Facebook, where she's created an opportunity for Central Texans to share their culinary treats and support each other.
Alicia, you are truly appreciated  for everything you do. Not only did you  make a page that for a place for all great chefs to come together, benefit from each other, and make a profit, but you also deliver some of the best food in all of Central Texas!
SO FRESH SO CLEAN!
I remember a long time ago talking about how organic options like vegan and vegetarian were pretty much non-existent in Central Texas. That was before Luvina Sabree came around.
Luvina opened So Natural, the first full service organic food service in our area. Luvina's food has been a breath of fresh air, and she also makes a lemonade that you would sell your right kidney for. It's that good!
This woman was definitely ahead of her time when she presented these great eats to Central Texas. She has made sure that we have consistently filled our body with the right ingredients for our best possible selves. We can't say thank you enough for bringing organic, natural foods to Central Texas!
SOUTHERN TOUCH 
Paris Williams came out of left field. One day I had been scrolling on the Bell County page to check out food and noticed the prettiest presentation of barbecue I've ever seen in my life!
Now don't get me wrong. The owner of A Southern Touch Soulfood doesn't just make barbecue, she can do it all for brunch, lunch, and dinner. This young lady is originally from Louisiana, and her wife Kimberly Cox-Williams is from Dallas. This dynamic duo has been killing the culinary game ever since they stepped foot in Central Texas.
A Southern Touch Soulfood isn't open just yet, but you can tell that these ladies are ready to give Central Texas exactly what they're looking for.
You wanna talk about fall off the bone food? Then you want to talk about the Williamses! Thank you for giving our soul a little Southern Touch, ladies!
TACO TUESSSSDAY!
If you don't say Taco Tuesday like LeBron James after eating Fallon Rufus' tacos, then you didn't really have a Fallon Rufus' taco. I am sure of it.
Let me tell you something - this woman has changed the game of tacos! I was just being nosy one day and looked her up because she was all the rave in Killeen when it can to tacos. I saw her chicken etoufee tacos and was like, "How SWAY how?!"
The owner of the Bar Beauty On The Go has perfected customizing tacos not just the authentic way, but her way, and Central Texas couldn't be happier.
People praise and beg for her tacos, and I can see why. The presentation is beautiful, the food is delicious, and the customer service is impeccable! You can have Fallon's tacos on Tuesday, Wednesday,  Flag day , shoot even National Dog Day. Who cares as long as you're having Fallon Rufus' tacos!
YEAH SHE ROLLIN'
Last and definitely not least is Lyntrell Akins. the owner of Yeah She Rollin' and the most recent Food Truck of the Year Award winner!
This woman has been bringing nothing but delicious dishes to Central Texas since the food trucks have been roll ling into Killeen . Her shrimp and grits is definitely a crowd pleaser and my all-time favorite!
7 Seafood Restaurants in Killeen and Harker Heights You Need To Check Out
You don't have to travel to the coast to find great seafood. There are plenty of places right here in Central Texas that serve it up fresh and serve it up right. These are just a handful of our favorites. Did yours make the list? If not, let us know what we should try next!
Meet Our Latest $1,000 Winners!
From now through October 15, we're giving you 10 chances every weekday to win $1,000 instantly or the grand prize of $10,000!
We'll bring you a new cash code every hour between 8AM and 5PM. When you hear a code, tap
our free app
to enter it for your chance to win.
The more codes you enter, the better your chances of taking home some serious cash like these recent winners.
The Yard Truck Food Plaza In Downtown Temple
Choose from a wide selection of cuisines from different cultures at the Yard Truck Food Plaza in Downtown Temple.