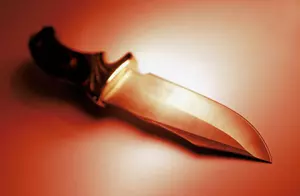 Lubbock Man Cuts Off His Own Penis
Thinkstock
A man in Lubbock, Texas called police officers to his apartment to inform them that an assailant removed his manhood with a knife. Authorities later discovered he was lying and had cut it off himself.

The incident unfolded on the morning of Tuesday, August 16. According to the police report obtained by Everything Lubbock:
He was cut with a knife and … his penis was cut off. [He] told me he had sex with [another man] before he was assaulted. EMS located [the man's] penis in the kitchen…
However, authorities questioning the man after he was transported to University Medical Center were told a different story. The police report says that the man's injury was self-inflicted.
No crime was committed by the man, so his name has not been released. No update on the man's condition was available at the time of this story's publication.