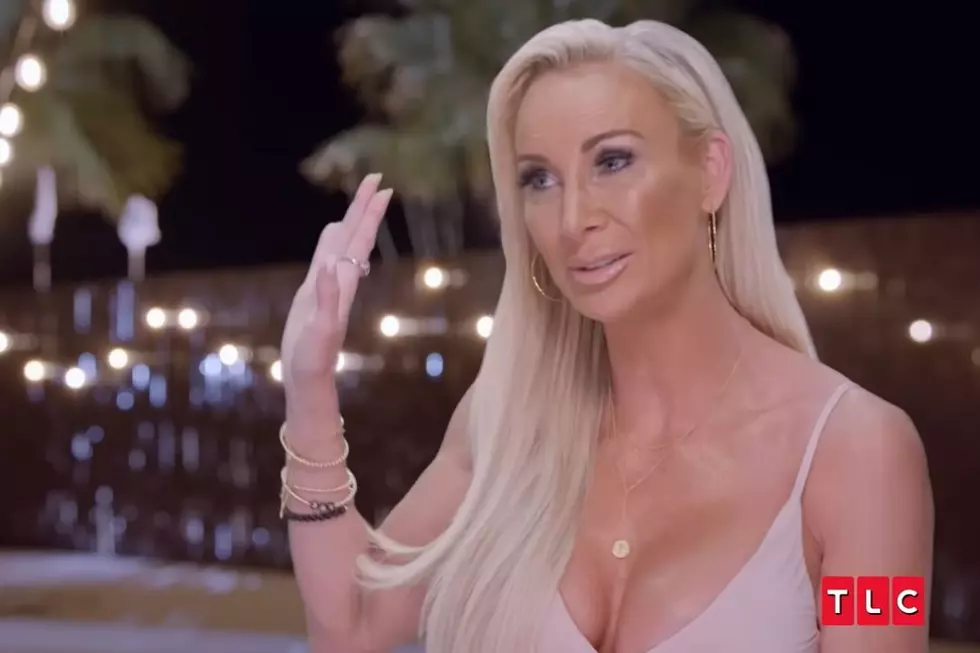 Is 'MILF Manor' the Most Outrageous Reality Show on TV?
TLC via YouTube
Reality TV dating competitions have been around for years. However, TLC's newest reality series, MILF Manor, is seriously pushing the envelope when it comes to helping single ladies find love.
The series follows "eight confident and strong-minded women [who] leave home for the chance to find love" in paradise, according to a description from the network. In an absurd twist, the women, who range in age from 40 to 60, are linked up with the much younger sons of their fellow contestants.
We'll spare you the more NSFW definition, but according to Urban Dictionary, a MILF is "any woman with children who has men that want to have sexual intercourse with her."
The competition includes Pola Mochon, a 47-year-old fitness studio owner from Miami; Charlene DeCicco, a 44-year-old Jersey girl who is currently living in Los Angeles; and 59-year-old former video vixen, April Jayne.
According to Loudwire, Jayne "was in videos by Van Halen ('Loss of Control'), David Lee Roth, Alabama ('Can't Keep a Good Man Down') and IMDb has her listed in the cast of Ted Nugent's 'Tied Up in Love' too. Not only did she have credits in music videos, she also appeared in the show Married With Children."
During each episode, the contestants compete in challenges to see if their connection is real or if it's time to part ways. In some cases on the show, which began airing Jan. 15, the women end up dating (and sleeping with) younger men the same age as their sons, who are also on the show, witnessing their mom's dating habits in real-time.
One particularly mind-boggling moment from the premiere episode shows contestant Joey, 20, desperately trying to stop his mom, Kelle, 51, from sleeping with fellow contestant Ryan, 30 — especially since the moms are staying in the same rooms as their sons.
Watch the clip below:
Viewer reactions to the show's outrageous concept have been hilarious.
"Milf Manor feels like a psychological experiment that would never pass any sort of scientific ethical standards so they put it in a reality TV show instead. Absolutely insane," one person tweeted.
"The pain in his face when his mom reveals her secret. MILF Manor is going to ruin these families," another tweeted about a moment in the show where one of the contestants revealed she slept with her son's best friend.
"RIP Sigmund Freud you would have loved MILF Manor," another user wrote.
"MILF Manor is the worst show I have ever seen. I will be watching every episode," someone else joked, echoing the sentiment of many reality TV show lovers everywhere.
"MILF Manor is bad for many reasons, but to get 3 men with open foot fetishes on one show is an incredible achievement that should be celebrated by reality television producers worldwide," another marveled on Twitter.
MILF Manor airs on TLC every Sunday at 10PM ET.
Celebrity Couples Who Had Huge Age Gaps
Stars Who Got Their Start on Reality TV