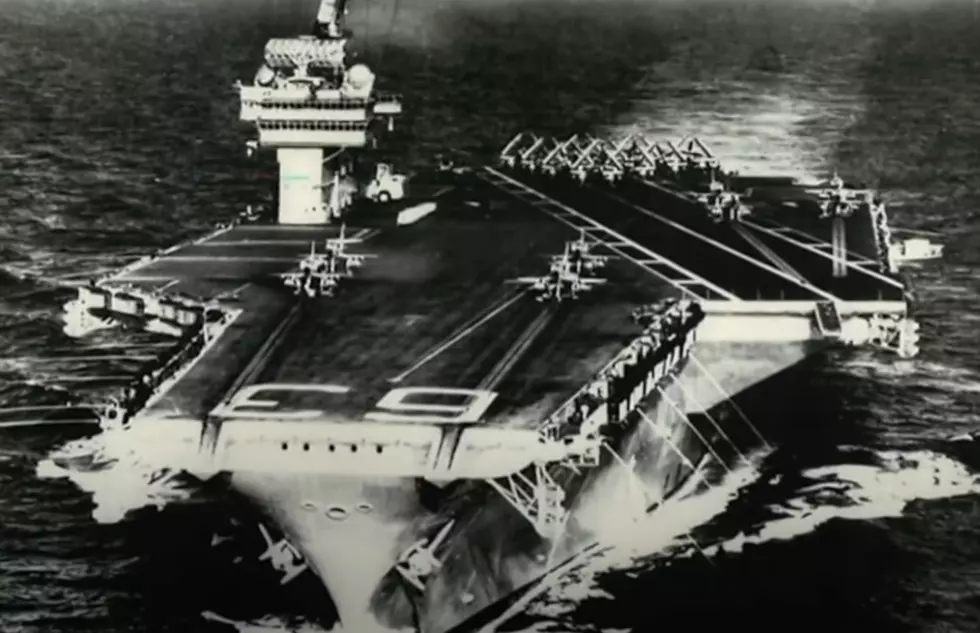 Clear For Takeoff: Aircraft Carrier Sells to Texans For How Much?
KVUE, Youtube
As the son of a former Air Force pilot and current Delta Air Lines pilot, airplanes have always been a large part of my life. Flying around to see family was a normal thing that the Paradise family would do. My dad also has a lot of airplane history items stored at their house.
I may not be able to name every airplane I see, but seeing an airplane take off always reminds me of those times when we packed up and sometimes had to hustle through security to get to wherever were going.
Sometimes also waiting at the airport all day to get on a flight, but I digress.
Now KVUE reports that a historic aircraft carrier aptly named Kitty Hawk was sold to an organization in Texas. Many wanted to see the carrier become a floating historical monument, and also serve as a museum, but unfortunately those plans never came to fruition.
Before we discuss the ridiculously low price the carrier went for, take a look back at Kitty Hawk:
And now for the moment of truth. How much could this large historic aircraft carrier be sold for?
$2 million perhaps? $5 million at the highest? It had to have sold for $500,000 at the lowest, right?
All those guesses are incorrect. The carrier sold for small, mere...1¢.
Yes you read that right - a single penny for this piece of history. Almost makes kind of sad that the plan is too simply break it down and sell the metal.
This makes me wonder why they couldn't make it like the USS Lexington in Corpus Christi. The Lexington has all these cool amenities, too. They even have an escape room on it!
I wonder if there's a way for them to possibly save it before it's scrapped. Hopefully there is.
Are You Moving To Temple, Texas? Be Aware of These Annoying Things
I was excited to move to Temple and start a new chapter in my life, and while life here's been good so far, the moving part...well, not so much. Here are a few things I learned that might help you out if you're looking to make this place home.
This Temple, Texas DoorDasher Helped an Elderly Woman Get Fresh Start
Shelby Moeller never imagined that an odd request while delivering for Door Dash would lead to a life-changing experience for him as well as an elderly woman who needed more than food.
He described his initial encounter on Facebook, thanking people who offered to help the 78-year-old woman he named 'Jane Doe' to protect her privacy. On March 20th, he was able to share some amazing news on Facebook.
"Many of you probably remember my post last week about door dashing and coming across an elderly woman in deplorable conditions. When I made the post, I was thinking that I just needed to raise awareness that our elderly right here in our community are often alone, forgotten, and in need of help. I never imagined that through my post, God was going to provide a small but mighty army of volunteers that would jump in and save Jane Doe."
Jane Doe had to be moved out of her apartment while biohazard disinfecting was done by Spotless Crime Clean. All furniture, carpet, and most of her possessions had to be thrown away. There was also no edible food, as everything in the kitchen was either expired or infested with insects.
Shelby was able to spend some time with the woman, who he described as his 'new adopted grandma'. He learned about her background, and how she had struggled throughout her entire life, being reduced to having nothing multiple times. She had developed some hoarding behaviors, and he believed that some of that was due to her fear of losing everything again.
Take a look at the before and after photos of the amazing transformation of her home that changed a Central Texas woman's life and helped her start over in a healthy environment.
Helpful Slithering: Which Snakes Could Help or Harm in Texas?
Not all snakes are bad. Some Texas snakes actually do a lot to help humans out, even if we don't always see or appreciate it. Then again, some snakes can do a lot of harm. Here's a quick rundown.
Chill Out This Summer at the 6 Best Swimming Holes in Texas
Feeling hot, hot, hot? Here are six of the best swimming holes in
Texas
to get your chill on and lower that core temperature.
Trips to Discover
and
The Crazy Tourist
both list the following six places as the best places to cool off this summer in the great state of Texas. You'll want to keep this list handy as the mercury rises and the sweat starts to pour!