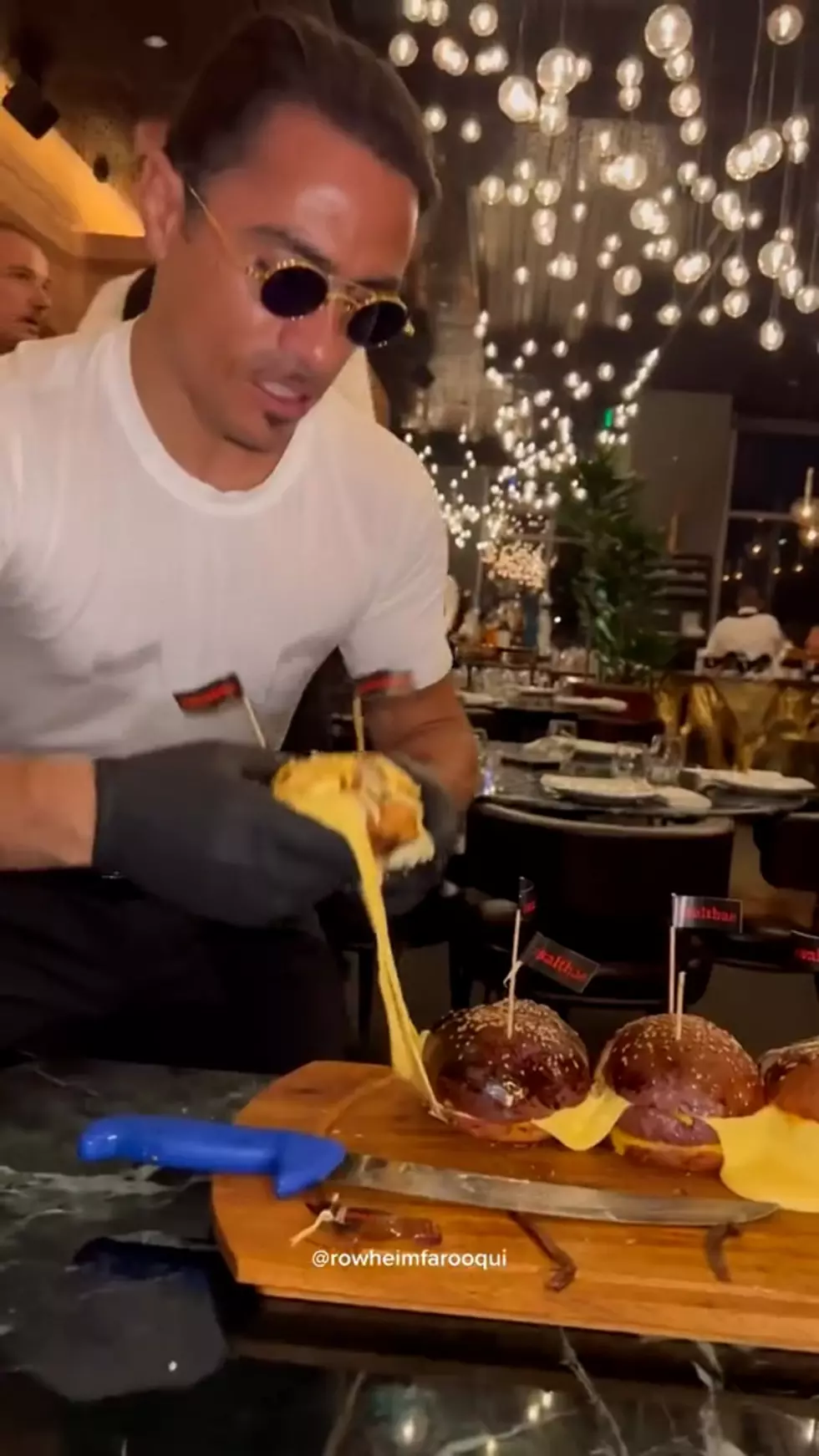 More Sweet Than Salty: Customer Witnesses Queso Burger Made In Dallas, Texas
rowheimfarooqui, TikTok
Cooking is a skill that many have mastered, and some have failed to completely understand. If you guessed it, yes I am in the still learning category. So eating out happens a little bit for me.
Which is why sometimes different experiences are needed. One place that I haven't been to in a while is a hibachi restaurant. To be honest though, I'm glad it's a once in a blue moon event because I'm always worried they're going to let go of those knives.
Now that I've unfortunately put that thought into your mind, let's move on to the actual topic, this queso burger in question.
For those who don't know Salt Bae, he became famous for one simple reason, his rather interesting way of prepping food. Since then, the internet phenom has opened eateries and sometimes appears to perform and make food. So people sometimes get to film him in his element, like this user here.
So let's go step by step and look as this moment in time shall we?
That is a lot of steam, food must have just been cooked right? But wait, what is in the pot?
It's like a blanket of cheese on the burger! It doesn't even break. And I'm drooling now too.
He even flips the cheese back into the pot with style. Got to make sure you keep the leftovers!
That is a juicy burger my goodness. And now I'm drooling even more...
It's time for the salt! He has that pose down flat doesn't he? It's interesting too, and with that we've witnessed magic. But one more thing...
If you're going to film a POV video, maybe don't show your face so you don't miss the whole thing!
A Tremendous and Exquisite Treehouse Airbnb Awaits You in Fredericksburg, Texas
A Treehouse as an Airbnb seems rather interesting. Let's take a look to see if this is the place you'd want to rest and relax at.
Feeling Free? Clothing Optional Boat Airbnb Sets Sail in Terlingua, Texas
Feel like getting a full-body tan on a deserted island? This
stranded boat
may be the ticket you're looking for!
Are You Moving To Temple, Texas? Be Aware of These Annoying Things
I was excited to move to Temple and start a new chapter in my life, and while life here's been good so far, the moving part...well, not so much. Here are a few things I learned that might help you out if you're looking to make this place home.
Seashells By The...Forest? This Stylistic Airbnb is Bursting With Magic
Ever wanted to live in a seashell? Now you can! Mermaids aren't included, sorry for the inconvenience.