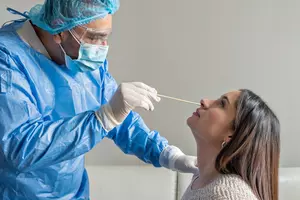 New Highly Contagious Covid Variant Is Soaring Through Texas
Canva
There is a brand new variant to Covid-19 that is sweeping through Texas, and has been described as a grandchild of Omicron, or some other type of mutated descendent. Right now it is believed that at least 1 in 4 current Covid-19 cases across the country are from people with the new subvariant.
Because this new strain is of the Omicron variety, it is not a surprise that its transmission rate is so high, and therefore becoming the strain that is showing itself more often in the positive Covid-19 tests. The Mid Atlantic states are especially sensitive to the HV-1 variant, and it is believed that the infection numbers could be more than one in three.
Is the latest Covid-19 booster effective against the new HV-1 strain?
Right now it is believed to be effective for this new HV-1 strain, but the CDC continues to recommend getting boosters often,
"If you have not received a COVID-19 vaccine in the past 2 months, get an updated COVID-19 vaccine  to protect yourself this fall and winter."
Obviously, RSV season is also upon us, so doing everything you can to protect yourself from illness is always your best practice. Staying ahead of anything that can jeopardize your overall immune system will provide you the best opportunity to overcome symptoms and other illnesses.
According to the AARP, more than 16,000 people are currently being hospitalized per week from Covid-19 diagnosis, and the numbers are holding steady based on current data.
14 Lingering Covid-19 Symptoms Our Listeners Are Struggling With
Answers to 25 common COVID-19 vaccine questions
Vaccinations for COVID-19 began being administered in the U.S. on Dec. 14, 2020. The quick rollout came a little more than a year after the virus was first identified in November 2019. The impressive speed with which vaccines were developed has also left a lot of people with a lot of questions. The questions range from the practical—how will I get vaccinated?—to the scientific—how do these vaccines even work?
Keep reading to discover answers to 25 common COVID-19 vaccine questions.
Gallery Credit: Stephanie Parker
Louisiana's 3 Year COVID Anniversary: What They Got Wrong