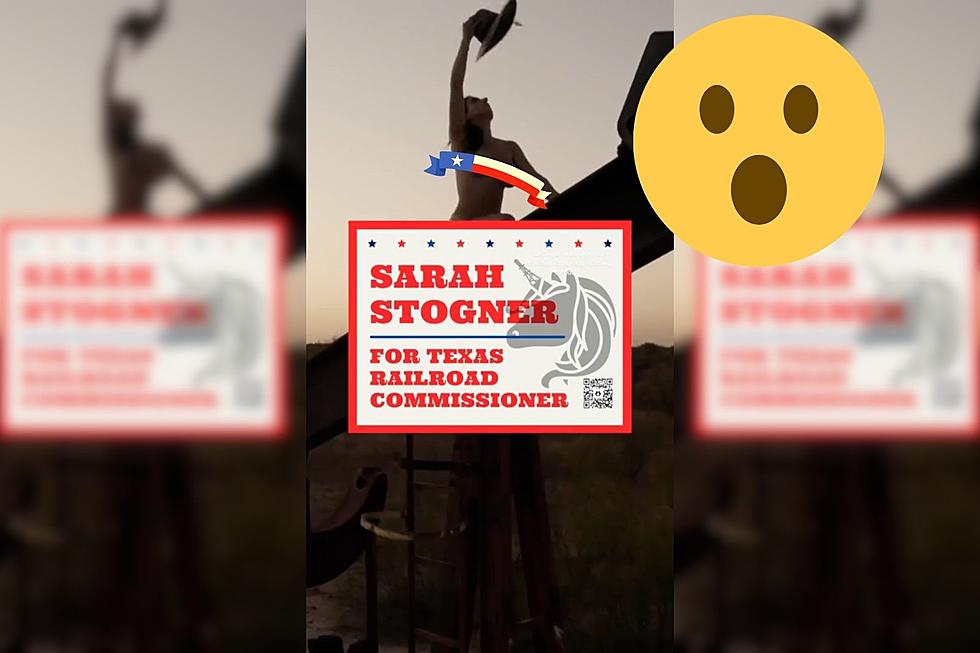 Texas RR Commissioner Candidate Goes Semi Nude on TikTok to Attract Votes
@theunicornlawyer, TikTok/Canva
Ever heard the saying "all is fair in love and war... and politics?" Apparently that means anything goes while running for office.
Who Is Sarah Stogner?
Sarah Stogner is a Republican candidate running for Texas Railroad Commissioner, and one way she is getting attention and shining light on her concerns is with a campaign ad that features her channeling Lady Godiva and going topless in her underwear and seminude.
Vote for Pedro
Stogner is a formidable candidate who has recently polled as high as second place. She even briefly picked up the endorsement of the the 4th largest newspaper in Texas, The San Antonio Express-News. They withdrew their endorsement after the video came out.
Stogner says the purpose of the ad is to draw more attention to the March 1 primary. Stogner has certainly brought more attention, good or bad, to the Railroad Commissioner's race than any previous candidate.
Watch the Sarah Stogner TikTok Video
---
---
CBS7 reports that the video, which was originally posted to TikTok, has over 60,000 views on Twitter. It features Stogner topless and riding a pumpjack in her underwear.
Stogner has certainly drawn the attention of plenty of people, and tells CBS7, "I've been jumping up and down for years trying to do it the traditional way of being nice and proper, wearing my Sunday School dress, and saying would Jesus want us to let our groundwater be polluted, and no one seemed to listen or care."  
Shocking Video, Strong Message
Stogner is campaigning on cleaning up water in West Texas and giving landowners more of a voice in the operations of oil and gas, among other things. She says she's aware that she is doing things differently and that poses a threat to the status quo, and now that she has your attention, it's time to get dressed and talk about the issues.
If you want to learn more about her stances on those issues, check out her website. Check out who else is running for the office here.
In Case You Didn't Know
The Railroad Commission has been given the task of making sure that natural gas plants get properly winterized following the disaster we experienced in Texas with last year's winter storm, which knocked out power to most of the state.
Early voting has already started. Here's where you can vote in Bell County, and here's where to cast your ballot in Coryell County. Get info on McLennan County polling locations and hours here.
Top 20 Restaurants Central Texans Wish Would Come to Temple
A while back, I
asked the good people of Temple
if they could picture a good restaurant to fill the lot on North General Bruce Drive where the soon to be torn down Long John Silver's stood.
This was before it was announced that a Dutch Bros. Coffee location would open there (which was one of the places I predicted as a contender in our article).
So now Dutch Bros. is open in that spot, but the responses to my survey were interesting because they paint a picture of just how diverse Temple's population is. People recommended some familiar restaurants with locations in the surrounding area, but also a few I'd never even heard of.
Here are the top 20 results of the survey. Let's see what the good people of Temple are craving!
13 Celebrities with Roots in Central Texas
Central Texas knows talent! From musicians and actresses to football players, we list 13 celebrities with roots right here in Central Texas.