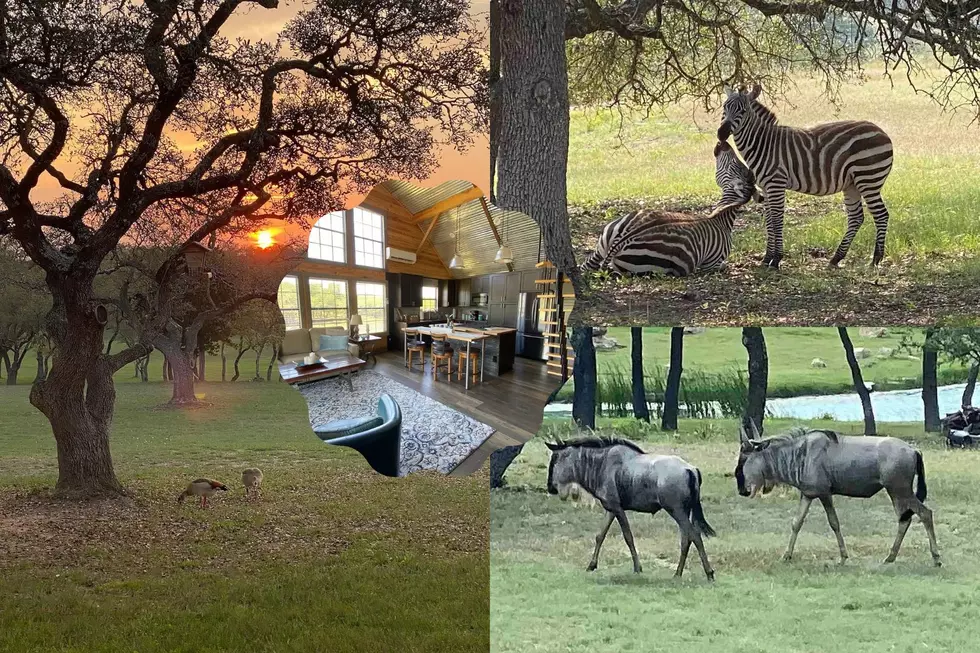 Explore The Sweet Serengeti Cabin with Zebras Located Right In Blanco, Texas
Airbnb/Canva
Are you ready to go on an adventure to the Serengeti? The best part about leaving for this adventure is that you don't even need a plane ticket to go on a wildlife adventure. We're headed to Blanco, Texas.
ARE YOU READY FOR A SERENGETI ADVENTURE RIGHT HERE IN TEXAS?
There is a Serengeti themed Airbnb in Blanco, Texas that will blow your mind. How would you like to wake up every morning to zebras and water buffaloes? This modern cabin is set on a beautiful 40-acres of the pristine Hill Country, but you'd swear you're on safari in Africa.
WHAT IS INCLUDED IN THIS AMAZING SERENGETI-THEMED AIRBNB?
The cabin is so spacious that it is enough for eight people, so if you want to bring your family or maybe even do a couples thing, this is the perfect spot for you to go. This beautiful Airbnb has access to so many comforts like a ginormous fire pit you can light up at night, swimming if you'd like, access to fishing, and even just lounging around in their very spacious but gorgeous gazebo.
You can have all these features and fun for only $226 a night, with all the amazing amenities. You're definitely getting some bang for your buck in my opinion.
I cannot wait until the summer so I can venture out to Blanco Texas and enjoy the Serengeti right here in the great state of Texas. I can tell you what you could experience going to this lovely cabin, but I'd rather show you with this beautiful gallery below.
Welcome To The Sweet Serengeti Cabin with Zebras Located Right Here In Texas
There is an
Airbnb
in Blanco, Texas with a Serengeti theme that is the perfect vacation spot, especially if you love exotic wildlife.
The Perfect Safari Vacation Spot Is Right Here In Central Texas
Do you love wildlife? How about giraffes? If you want to get up close and personal with them while enjoying a comfy Airbnb, then
Blue Hills Ranch
located in McGregor, Texas is the perfect getaway for you and your family. Let's look around at this charming safari right here in our backyards.
Alpaca My Bags and Meet You At This Charming Airbnb in Kempner, Texas
This unique and alpaca-packed
Airbnb in Kempner, Texas
looks like way too much fun. Let's look around at this fun family destination right here in Central Texas.