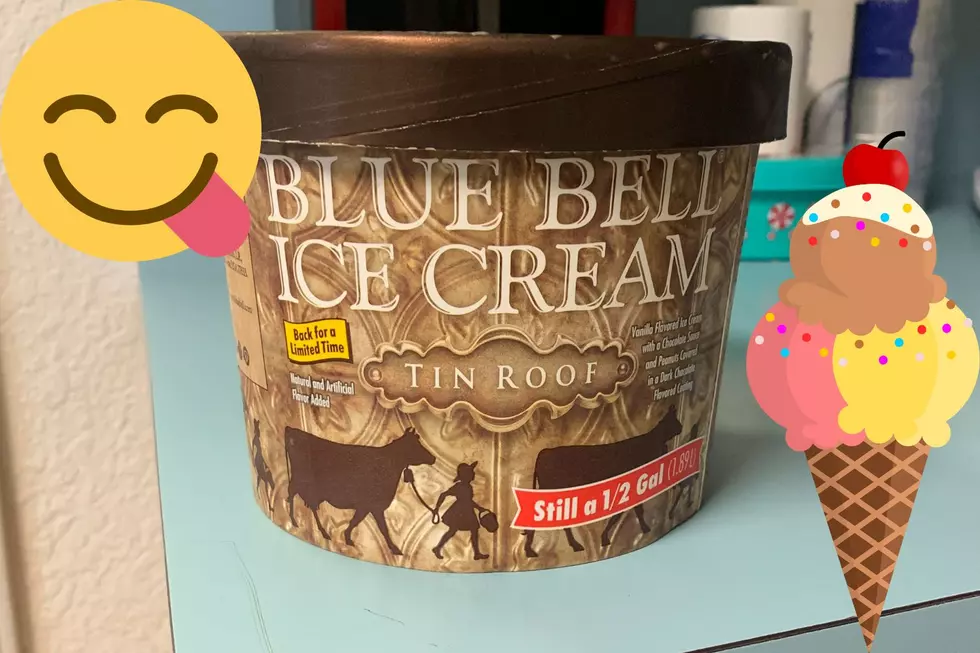 Cold But Delicious: Blue Bell Brings Back Classic Flavor In Texas For New Year
Tommy Paradise/Canva
Ah 2023. We're already so early in the year, and some people's new year's resolutions may be tested by various things. Road blocks always seems to pop up at the beginning of the year right?
For example, say you chose to go to gym more often in the new year. The gym is always packed to start the year aren't they? Then you think "this might be a bit more difficult than expected," and it might become a bit of a drain trying to follow through on the resolution.
For some who have made the resolution to eat healthier in the new year, our friends in Texas, also known as Blue Bell, are about to test our willpower.
A New Flavor! Well, A Throwback New Flavor?
Yes all we love Blue Bell, and admittingly, I'm little bit behind on this flavor. Tin Roof is a flavor that many Blue Bell connoisseurs have been requesting to return.
Those calls for a return were held, because Tin Roof has returned to store shelves!
Of course, if it was going to make a return, it was going to come back in style with a new design right? But of course, it will only be in stores for a little while, because it can't stay forever.
Admittingly, I've never had this flavor before, so I'd probably need to try this before it disappears completely right? Maybe my new year's resolution should've been to try more ice cream...
Top 25 Delicious Foods & Drinks That Define The Great State of Texas!
There's more to Texas than just Dallas Cowboys and oil in fact, Texas has helped shape the taste of America. From BBQ, to Tex Mex to Ice Cream and beyond, Texas has introduced the rest of the U.S. to the Texas way of life through food. So what foods and drink make Texas so special? Let's take a look.
Which Are The Most Famous Brands From The Lone Star State?
10 Myths About Texas That Even Some Natives Believe
Everything's bigger in Texas, including the tall tales! Our state can seem pretty strange to people from far away, or even our immediate neighbors. There are several myths about Texas that range from quirky to fun and just plain ignorant and insulting, and even some people born and raised her believe 'em. Here are a few we can dispel today.
Top 20 Restaurants Central Texans Wish Would Come to Temple
A while back, I
asked the good people of Temple
if they could picture a good restaurant to fill the lot on North General Bruce Drive where the soon to be torn down Long John Silver's stood.
This was before it was announced that a Dutch Bros. Coffee location would open there (which was one of the places I predicted as a contender in our article).
So now Dutch Bros. is open in that spot, but the responses to my survey were interesting because they paint a picture of just how diverse Temple's population is. People recommended some familiar restaurants with locations in the surrounding area, but also a few I'd never even heard of.
Here are the top 20 results of the survey. Let's see what the good people of Temple are craving!