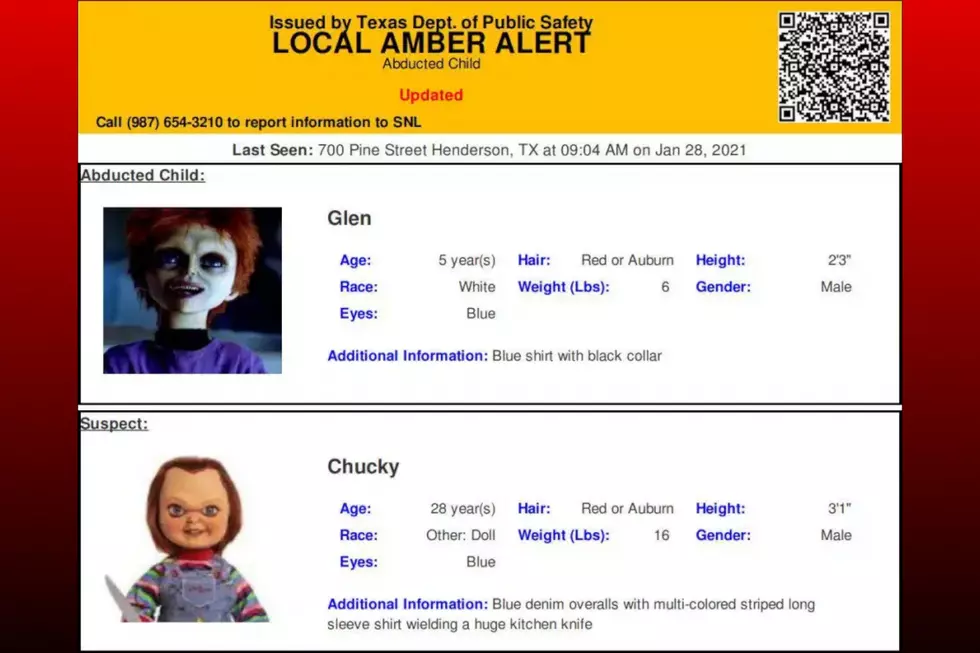 Texas DPS Issues AMER Alert for Chucky Doll
Texas Department of Public Safety
If you got an AMBERT Alert Friday morning about Chucky from the Child's Play movies running around, don't freak out. No, the maniacal serial killer doll isn't real and he's not coming to get you. The alert was (obviously) sent by mistake.
Or was it?
Turns out Chucky's kid, Glen, was the one abducted, and of course Chucky is the prime suspect. As he should be. Here's the alert that went out,
---
---
As you can see, Chucky was wearing denim overalls with a multi-colored striped long sleeve shirt on and stands at 3'1" and weighing in at 16 pounds. But don't be fooled by his size or weight - Chucky is one mean S.O.B.
If you see a suspect matching this appearance, call 911 immediately, do not approach. Chucky should be considered armed and dangerous as he was last seen with a huge kitchen knife.
If by chance you tangle with Chucky, and somehow win the fight, don't be fooled. He's a master at playing dead. Chucky has been known to survive even the most gruesome of deaths. He's been shot, burned, beheaded (multiple times), shredded, and dismembered, and he still comes back for more.
It's rumored that Texas DPS has called in another indestructible force to track down and destroy Chucky: the Terminator.
Hopefully this finally puts an end to Chucky's reign of terror, but I doubt it.
Stay alert and stay safe Texas!
Okay, okay, I'm just having fun.
According to KHOU 11,Texas DPS said  "This alert is a result of a test malfunction. We apologize for the confusion this may have caused and are diligently working to ensure this does not happen again."
Enter your number to get our free mobile app
Lizzie Borden's Maplecroft Is Back on the Market in Fall River, Massachusetts