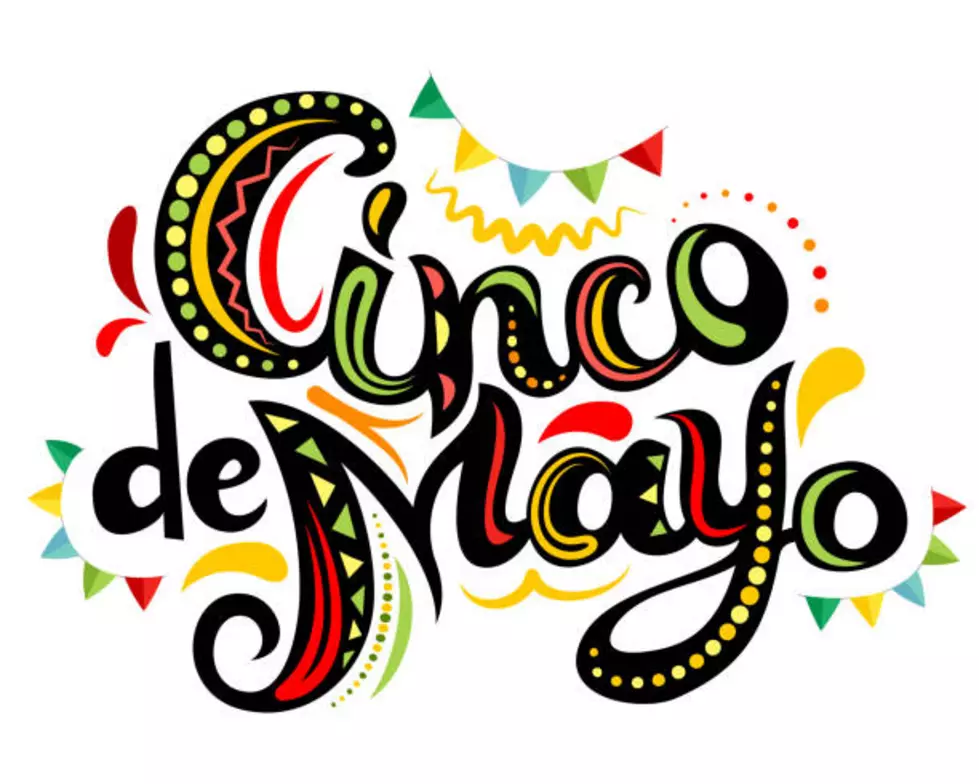 Fiesta! Here are 5 Great Places to Celebrate Cinco de Mayo in Killeen, Texas
Getty Images/iStockphoto
It is definitely time to get our party on in Killeen, Texas. Cinco de Mayo is this week, and I know for a fact the city is going to come out and party! If that includes you, I've got some places I highly recommend for doing it right.
WHY IS CINCO DE MAYO CELEBRATED?
Cinco de Mayo, translated to fifth of May, is a yearly celebration held on May 5 which commemorates the anniversary of Mexico's victory over the French Empire at the Battle of Puebla in 1862.
Now, I'm not trying to give you a history lesson, but you at least need to know why you are enjoying the festivities of street tacos, tequila, and frozen margaritas.
WHERE IS THE BEST PLACE TO CELEBRATE AND PARTY ON CINCO DE MAYO?
In Texas, Cinco de Mayo is celebrated like we just won the battle of Puebla every year.  We all get dressed and go out to some of the best Mexican restaurants in our city and have the time of our lives while sipping some of the best tequila we've ever had (which is usually just the latest tequila you've had.)
Of course, we'll also be enjoying nice, cool, refreshing margaritas.
The question on everybody's mind is, where is the best place to celebrate Cinco de Mayo in Killeen? Here are five places in the city that make sure the word celebration is not used loosely, and never miss a beat with the great food and perfect drinks. These establishments know exactly how to party for this holiday. Everyone loves a good taco and tequila combo, but for some reason, it just tastes better on May 5th.
Happy Cinco de Mayo!
THE TAQUERIA
Let's start with my favorite go-to Mexican restaurant - the Taqueria located at 1915 E. Veterans Memorial Blvd. The shrimp tacos here are so good, and the drinks are even better.
EL TACO JALISCO MEXICAN RESTAURANT
El Taco Jalisco Mexican restaurant located at 516 W. Rancier Ave. is usually my go-to spot for breakfast tacos, but I must say they have some of the best salsa I've ever tasted in my life. If you're a real taco eater, you know good salsa is very important.
LOS CABOS MEXICAN RESTAURANT
Los Cabos Mexican restaurant located at 1215 South  Food Hood Street is not only an upscale authentic Mexican bar and Grill, but it's also the perfect place for a date night and the margaritas are extremely tasty!
MENO'S MEXICAN GRILL
Now if you're looking for great margaritas with no tequila and wWine-based liquor, Meno's Mexican Grill located at 1100 E. and Schlueter Loop is the place you want to be. Oh, and their enchiladas are addictive.
HANGOVER BAR AND GRILL
Last but not least, if you're wanting to enjoy tacos during the day at a restaurant and celebrate the Cinco de Mayo holiday, at night Hangover Bar and Grill located at  104 W. Elms is the place you want to be. At this point, Tonya Williams, owner of The Hangover, is taking over every holiday with an event. I can't wait to see what she does for Flag Day!
BONUS MENTION - PALMERAS IN HARKER HEIGHTS
While it's in Harker Heights and not Killeen, Palmeras is close enough. Not only the Latin-inspired food absolutely delicious, but they make some of the best mixed drinks in Central Texas and have such a relaxed and upscale atmosphere. You'll find them at 201 E Central Texas Expy #1460 in Harker Heights, and you won't regret stopping in.
DID YOUR FAVORITE MAKE THE LIST?
Tap the Chat button in our free app and let us know where you'll be partying this Cinco de Mayo. Just be sure you have a designated driver or a safe ride home.
Dream Eats: These Are 20 Restaurants We Really Want to Come to Killeen, Texas
Dream Eats: These Are 20 Restaurants We Really Want to Come to Killeen, Texas
10 Junk Foods We Love
Here are my Top Ten Junk foods that we all love, Even though I try to eat healthier now I often crave these foods. Did your guilty pleasure make the list?