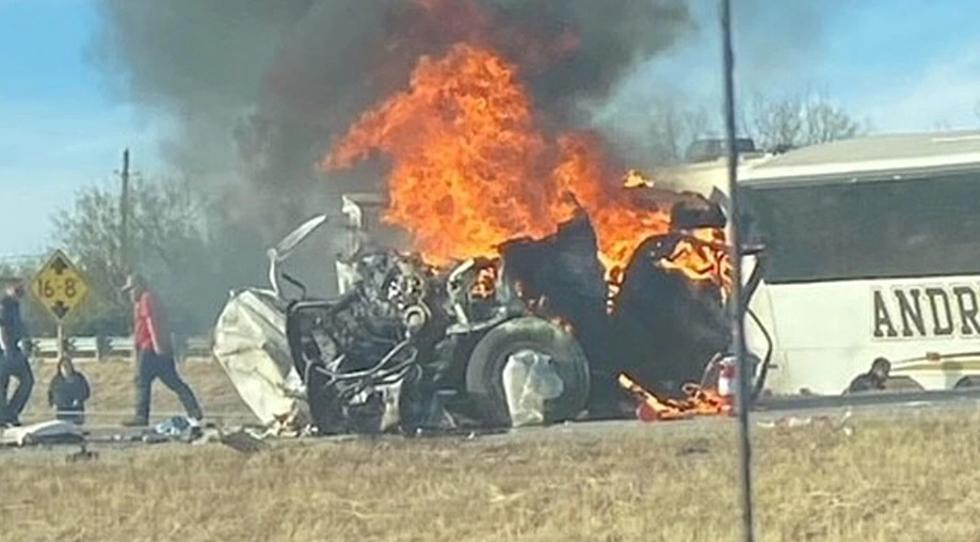 Deadly Crash on Texas I-20 Involving School Bus Kills 3
Photo VIA KWTX (Peter Boen)
A fiery school bus crash in Big Spring Texas on Friday night claimed the lives of three adults.
According to our news partners at KWTX, a driver identified as Nathan Paul Haile, 59, of Midland Texas was going the wrong way when his Ford F-350 collided head-on with the first of three Andrews ISD chartered busses.
According to Texas DPS, the collision resulted in the deaths of Haile, the driver of the F-350 plus the driver of the bus, 69-year-old Mark Elbert Boswell of Andrews and Andrews ISD band director 53-year-old Darin Kimbrogh Johns.
There were 25 students on board the first bus. Two of those students and one adult were airlifted to UMC in Lubbock with the two students listed in critical but stable condition. 11 other students and one adult were taken to a hospital in Big Spring, where they were treated and released for non-life threatening injuries.
Andrews ISD said in a statement on Friday night that members of the schools marching band were on the bus and said that  "all kids are accounted for and being treated."  The Friday night game versus Springtown has been canceled until further notice.
Upon hearing the news, Texas Governor Gregg Abbott also released a statement saying,
"Our hearts go out to those who were injured or lost their lives in the bus crash in Big Spring, and we grieve for the families of those taken too soon. The Texas Department of Public Safety is working closely with local officials to investigate this accident, and the State of Texas is ready to provide any additional resources and support needed to Andrews ISD, Big Spring, and those affected by this tragedy. I thank the first responders who rushed to the scene to help those involved in the crash, and I ask Texans to join me and Cecilia in prayer for those involved in this horrific accident."
The investigation is still on-going as to if the deceased driver of the F-350 was driving while impaired or not.
Texas' 30 Most Dangerous Counties For Driving
Texas is a large state with multiple highways to help keep us connected. Unfortunately these same roads can cause trouble and grief if you're not careful. Take a look at the list of Texas counties and the most deadly road located there based on fatal accidents.
Toys For Troops Returns to Make Christmas in Central Texas a Merry One
Operation Phantom Support and these fine sponsors are once again collecting toys to help Central Texas military and first responder families in need have a joyous holiday.
If you want to help make some Christmas magic happen, please donate a new, unwrapped toy or gift at one of these fine Central Texas drop-off locations.
NO THANKS! Texans Don't Need More of These 12 Things
There's not much not to love about Texas, but here are a few things that we probably could use less of.