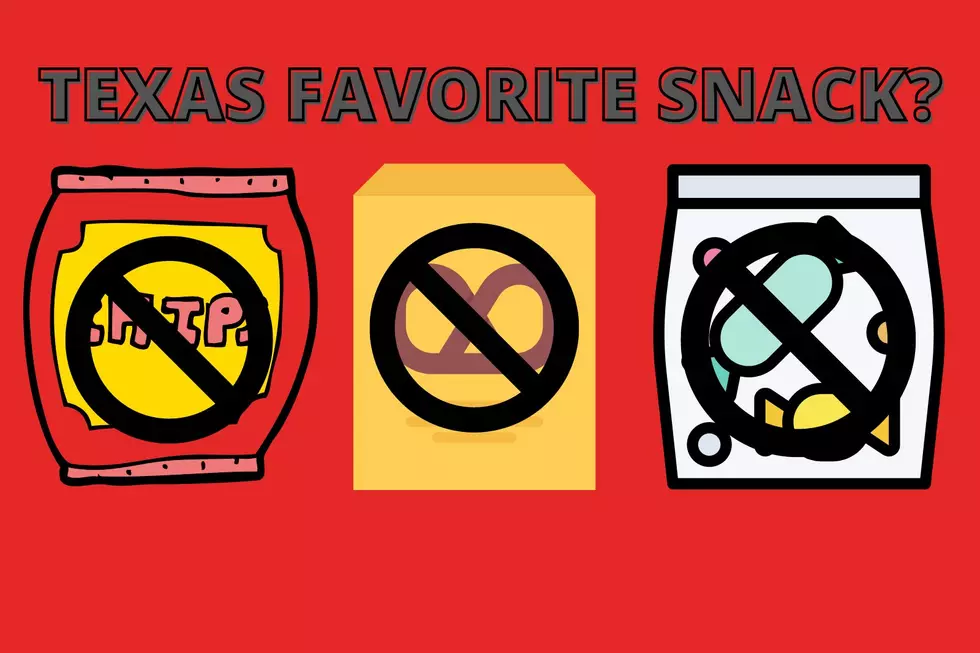 No Surprise Here – Food & Wine Magazine Picks Texas Favorite Snack
Canva
I'll give you three guesses on what popular road snack just topped Food & Wine's Best Snack in Texas list.
I'll even give you a hint - it's become an iconic snack from a iconic Texas brand.
Snack Time
What's your favorite snack? Bag of chips? Beef Jerky? Sunflower seeds? Maybe some pretzels or a handful of cookies? Perhaps you're into a more healthy snack like carrots and celery or dehydrated okra or something. A lot of times I'm just grabbing something close-by and in my household, it's always something sugary and sweet and probably the least healthy option available, like a Snickers or something.
In my family the snacks range from cookies, chips, Twizzlers and sunflower seeds to some kind of licorice candy that leaves my mouth feeling like I just ate a spoonful of used black coffee grounds.
Favorite Snack for Each State
Food & Wine did a pretty good job on their "Best Snack in Every State" list. It really delivered according to each states "locality" if you will. For example, for Alaska it was Kelp Chips, Delaware was Salt Water Taffy while Florida was Orange Juice. Of course, Georgia was Pecans, Hawaii was Macadamia Nuts and Idaho was Spud Bars. You get the point right?
One of the odd ones was Colorado which Wine & Food listed as "Edibles." Lol. I know Colorado is knows as a weed state but edibles are not the favorite snack. It's not like everyone who enters the state instantly becomes a pothead but whatever, maybe that's just Food & Wine making a joke or something.
Texas Favorite Snack
It should come as no surprise that here in Texas, Food & Wine chose a road snack favorite with Buc-ee's "Beaver Nuggets."
Food & Wine says:
"...The state's beloved hometown brand of gas station, Buc-ee's, seems to be opening locations at nearly half of said exits. Beyond some of the largest gas pump islands in the world, you'll find convenience stores that make your typical Trader Joe's seem tiny, brimming with freshly chopped brisket sandwiches and house-brand snacks. The most iconic, quite easily, has to be the deliciously evil Beaver Nuggets, sold in bags large and small — think corn pops, but if each one were dipped in delicious caramel, and you're basically there. Not for the faint-of-teeth."
Buc-ee's is an iconic Texas brand and those "deliciously evil Beaver Nuggets" are definitely an iconic Texas snack.
Wow! What I Saw When I Turned Left Inside Buc-ee's In Temple, Texas [PICS]
As the saying goes... everything's bigger in Texas.
Having said that, I've never seen a gas station with more than 50 gas pumps.
Then I visited Buc-ee's.
What is Buc-ee's?
If you don't know or have never visited the popular one-stop highway shop that has over 35 Texas locations in Texas, you need to!
You can get everything in Buc-ee's from gas, to keychains to candles to brisket to goat milk soap and everything in between.
Buc-ee's Has Expanded
According
to their site
, Buc-ee's, not only has multiple locations here in Texas, they have expanded to southern states like Georgia, Alabama, and Florida.
The World's Largest Buc-ee's Coming Soon
Later this year, Buc-ee's has
plans to open
"The World's Largest Buc-ee's" located in Sevierville, Tennesse. It will have 120 fuel pumps, a 250-foot car wash, and 74,000 square feet of indoor shopping.
Yikes!
I've Never Turned Left
In almost 7 years, I've been here in Texas, I've never turned left when I went inside a Buc-ee's.
I either walk straight to the bathroom or turn right to get water or gummy bears or chocolate almonds. (I get the same thing every time)
But yesterday, I decided to turn left and (I know I'm late) I was mesmerized!
For starters, I never had a reason to turn left.
I've visited the one in Waller County, Bastrop, and the Temple location.
Every time I've visited Buc-ee's, I've never had a reason to go "shopping" always a bathroom break and then back on the road.
So here are some of the cool things I saw when I turned left at Buc-ee's in Temple, Texas!
Top 25 Delicious Foods & Drinks That Define The Great State of Texas!
There's more to Texas than just Dallas Cowboys and oil in fact, Texas has helped shape the taste of America. From BBQ, to Tex Mex to Ice Cream and beyond, Texas has introduced the rest of the U.S. to the Texas way of life through food. So what foods and drink make Texas so special? Let's take a look.