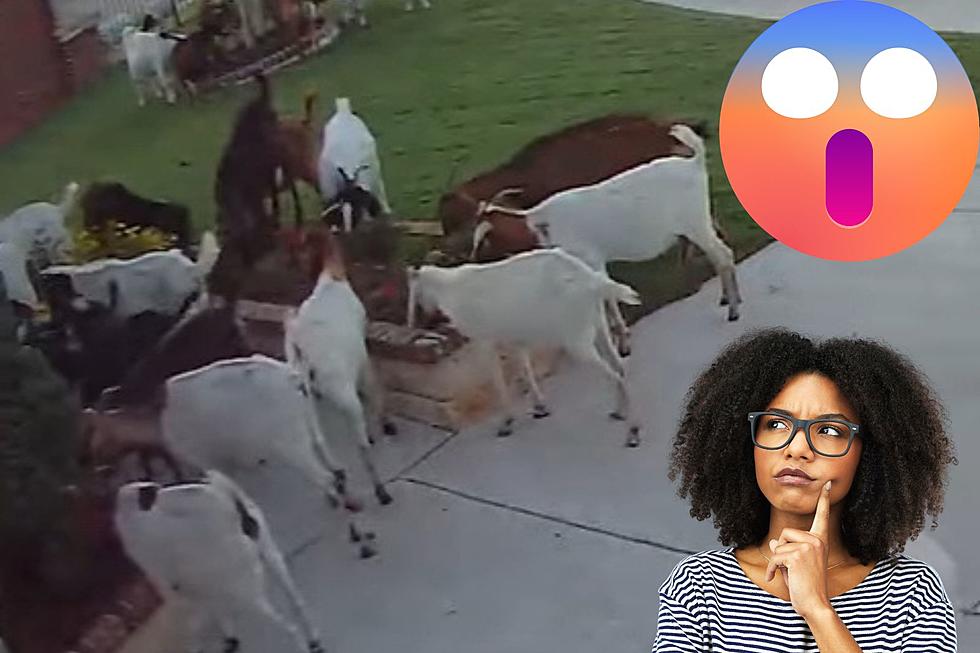 What in the Baa? When Did Goats Invade A McKinney, Texas Neighborhood?
WFAA/Canva
Is it just us or are animal sightings on the uptick in the Lone Star State? Maybe it's because of the heat, or suddenly we're noticing them more, but it's rather weird to see these days. Well, it is the wild west after all right?
But most of the time, when we see a wild animal it's mainly in a zoo. Rarely do we see it in our normal lives. Until that moment it happens to us.
For one group of Texans in McKinney, waking to up a wild animal invasion is startling to say the least. But, it happened, and they've got the evidence to prove it!
The Goats Have Appeared In The State Of Texas
According to WFAA, Garrett Piersall provided video of the animals partaking in eating some of the plants outside his abode:
First off, my goodness that is a lot of goats, just casually eating greenery on the front lawn right? Second, there's no way to really chase them off right? But why did the goats end up in the neighborhood in the first place?
WFAA was informed that the goats themselves were with a herd that they simply decided to break away from their group and, so to speak, take the scenic route to the neighborhood. The company that was helping with the goat herd didn't provide a statement, but they did fix the yards the goats snacked on.
Well at least the goats enjoyed their snack right?
Check Out This Giraffe Mansion in in Fredericksburg, Texas
If you've never heard of a giraffe mansion, there's now one in Fredericksburg, Texas. Let take a look at this very unique experience.
New Bobcat Of Temple, Texas
Inside look of the new
Bobcat
dealership in Temple, Texas including the grand opening event.
10 Myths About Texas That Even Some Natives Believe
Everything's bigger in Texas, including the tall tales! Our state can seem pretty strange to people from far away, or even our immediate neighbors. There are several myths about Texas that range from quirky to fun and just plain ignorant and insulting, and even some people born and raised her believe 'em. Here are a few we can dispel today.
Strange And True, Have You Heard These Name Origins Of Certain Texas Towns?
With so many towns in the Lone Star State, there's a few that might leave you scratching your head for their names.