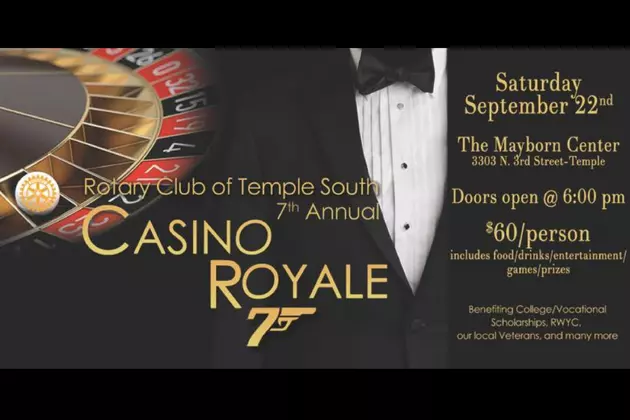 Temple's 7th Annual Casino Royale Returns in September
Rotary Club of South Temple - Used with permission
The Rotary Club of Temple-South is hosting another Casino Night on Saturday, September 22nd at the Mayborn Center in Temple.
It's time to get in touch with your inner 007! The theme this year is James Bond. Guests should dress in 007 attire.
The rotary's mission is to help raise funds for the Ralph Wilson Youth Club. Funds raised will go to area student scholarships, veterans programs, and several other local service projects.
The evening will feature casino games, dining, drinks, along with several auctions. The evening will start at 6 pm and will also include a VIP martini event at 5:30 pm. Tickets for the VIP martini party will toward the worldwide fight against polio.
Casino Royale tickets are $60 with an additional $40 for the VIP martini event. To purchase tickets you can visit www.tsrotarycasino.com. Local ticket outlets include PaperGraphics Printing, Kwik Kopy Business Center, Dietz-McLean Optical and Cox Bond Dental Group.