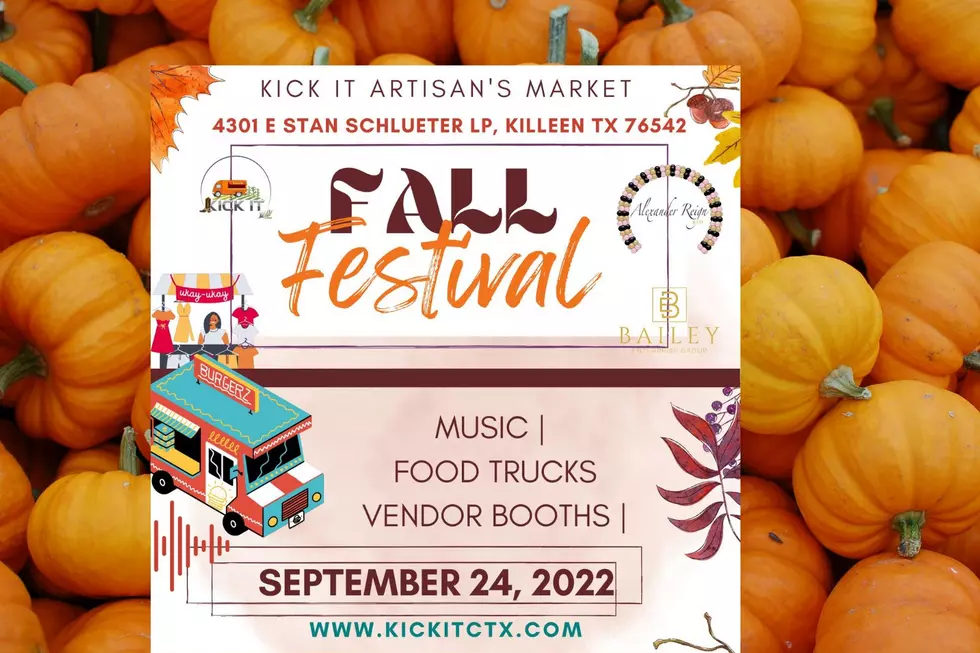 Killeen, Texas Come Out And Enjoy The Second Annual Fall Festival
Canva
I love seeing the Killeen, Texas community come together in a positive way to party and welcome the fall season, and so I'm excited to announced Kick It Artisan's Market Fall Festival coming up later this month.
COME AND ENJOY THE PARTY AT THE SECOND ANNUAL FALL FESTIVAL
The fall festival season is here, ladies and gentlemen!
This particular festival will be the second annual such event in Killeen to feature favorite local crafters and food trucks with their delicious treats. I had an opportunity last year to enjoy the Fall Festival at the KICK Food Park, and to be honest with you Central Texas, I've been waiting for them to come back.
COME OUT AND MEET YOUR NEIGHBORS AND ENJOY YOUR COMMUNITY KILLEEN TEXAS
It is just nothing but great vibes with good people not only having a great time but networking as well you really can't ask for a better event! This is will take place on September 24th and will be located at 4301 E. in Schlueter Loop.
If you're all about having a great time while shopping and enjoying delicious food all around from all around Central Texas then a fall festival is definitely a place you want to be!
WHAT ELSE CAN YOU EXPECT AT THIS EVENT?
To Top everything off Central Texas, there will be a ' best Bakers for a Cupcake Showcase and Competition; Fall Themed!
Registration for vendors closes September 20th, so signup here!
Mon'Amie's Caribbean Flava Ice will be featuring a new Limited Time Only Flava, as well as Pumpkin Spice. I will see you there!
sides
14 Texas Eats We Can't Live Without
Meet Our Latest $1,000 Winners!
From now through October 15, we're giving you 10 chances every weekday to win $1,000 instantly or the grand prize of $10,000!
We'll bring you a new cash code every hour between 8AM and 5PM. When you hear a code, tap
our free app
to enter it for your chance to win.
The more codes you enter, the better your chances of taking home some serious cash like these recent winners.