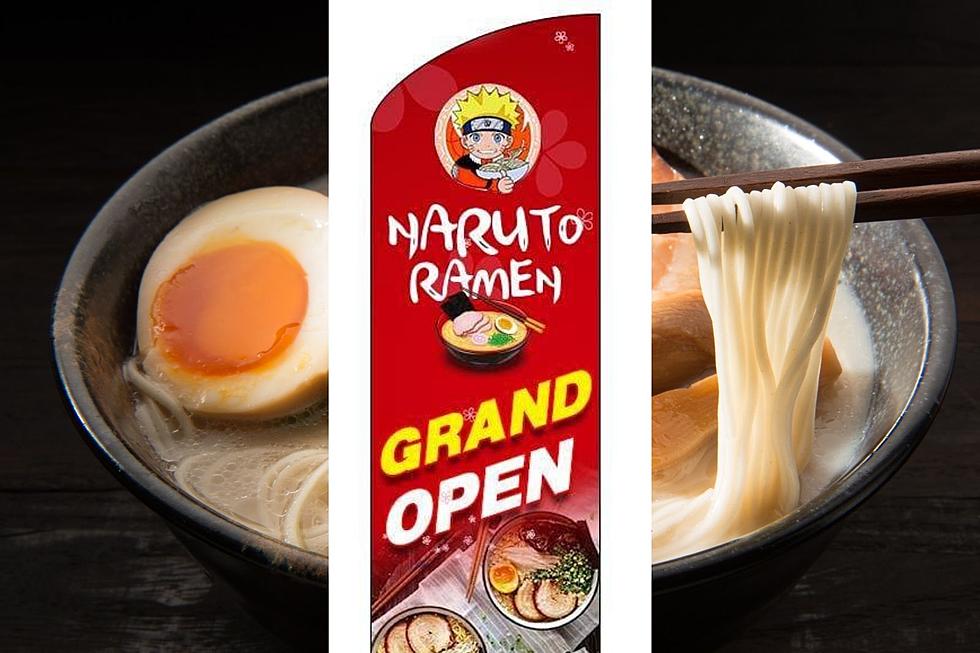 Yummy! Have You Heard of Naruto Ramen Coming to Killeen, Texas?
Courtesy of Guang Lin/Canva
What if your favorite childhood cartoon came to life? Better yet, what if a new delicious food joint opened up based on your favorite cartoon character? That'll soon be a reality here in Killeen, Texas.
Naruto Ramen Is Coming to Killeen
I remember growing up and watching anime cartoons and thinking to myself that every time there was a scene with a dish that was being made, I really wanted to be eating it.
There's something about a cartoon that can make food seem more delicious! (Studio Ghibli films are famous for this.)
I can't promise you that your favorite anime will come to life, but I can tell you that you will get to enjoy some of the delicious anime-inspired dishes that you have always wanted.
Make sure to mark your calendar for February 8th, because Naruto Ramen will be having a grand opening here in Killeen.
Naruto-Inspired Cuisine Is On the Menu in Killeen
The establishment will be located at 616 N. Fort Hood St., and while the menu has something for everyone, it's Naruto fans who should be most excited.
What Is Naruto?
If you're not familiar with the anime Naruto, let me give you some insight. Naruto is a series set it in Japan, where a young ninja by the name of Naruto Uzumaki trains and hopes one day to become a leader of his village. Like any young teenager, he wants  the approval of his friends while on his quest to making his dreams a reality.
If you have kids, they're likely into the show and you've had to get onto them about practicing some of the moves Naruto and his friends use. The show is one of (if not the) most popular on the planet, so chances are you've at least seen some of the characters on merchandise. Soon, you'll see them on a restaurant sign here in Killeen.
Don't Miss the Naruto Ramen Grand Opening February 8th
Anime Continues Its Central Texas Takeover
Every year, the Bell County Comic Con sets new attendance records at the Expo Center in Belton, and one of the big draws are guests who do voices for some of the top anime shows. It's no wonder someone decided to open a restaurant based on their favorite, and it's surprising it hasn't happened sooner.
Anime has become very popular over the years. I remember when Naruto first started in 1999 and most folks didn't really know about the quality of "Japanimation", but now we will have a Naruto-themed based restaurant with all of  the the delicious foods you see in this amazing Japanese series.
The theme, the food selection, and the atmosphere will be something that Killeen has never seen before. I believe that this particular establishment will bring new fans to anime, and will be an absolute delight for the original fans.
I cannot wait to enjoy some ramen and check this place out! Hope to see you there February 8th!
Top 20 Restaurants Central Texans Wish Would Come to Temple
A while back, I
asked the good people of Temple
if they could picture a good restaurant to fill the lot on North General Bruce Drive where the soon to be torn down Long John Silver's stood.
This was before it was announced that a Dutch Bros. Coffee location would open there (which was one of the places I predicted as a contender in our article).
So now Dutch Bros. is open in that spot, but the responses to my survey were interesting because they paint a picture of just how diverse Temple's population is. People recommended some familiar restaurants with locations in the surrounding area, but also a few I'd never even heard of.
Here are the top 20 results of the survey. Let's see what the good people of Temple are craving!
Celebrating Tillie Marie's 3 Year anniversary in Central Texas
Today we celebrate the 3 year anniversary of Tillie Marie's. Let's take a look at some of her signature dishes
10 Junk Foods We Love
Here are my Top Ten Junk foods that we all love, Even though I try to eat healthier now I often crave these foods. Did your guilty pleasure make the list?