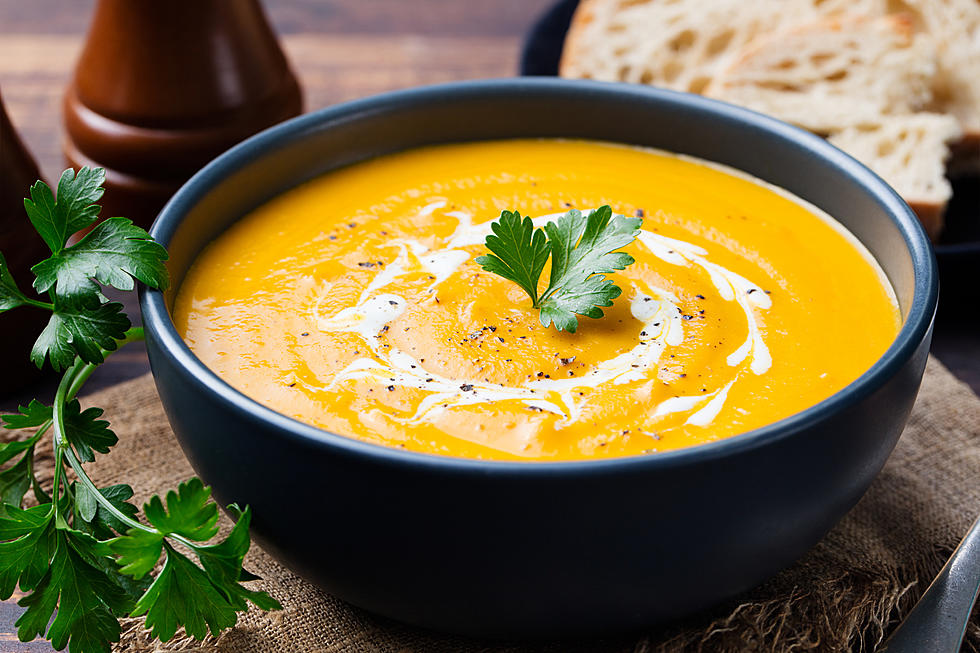 Yummy! The Best Roasted Vegan Pumpkin Soup Recipe You Must Try
Getty Images/iStockphoto
Now, hear me out. I know I've been giving you guys a lot of pumpkin spice recipes lately (like martinis and cheesecake), but it's my favorite time of year and practically the holiday season already.
There are so many delicious things you can do with fresh, harvest time fruits and vegetables, and one of my favorite is most definitely pumpkin soup.
That's right - pumpkin soup! My mother has been making it for my sister and me since we were little girls. She made a batch a few days ago and it took me right back to my childhood. The best part for grown-up me is that it's vegan and extremely healthy.
This pumpkin soup recipe is creamy on top being good for you, so it's a win-win. The roasted pumpkin ingredient in particular has such tremendous flavor that will fill your tummy and your heart.
This soup pairs well with sandwiches and salads too, and it's easy and inexpensive to make. With even a small sized pumpkin, you can make enough for a family of four. Mom liked to pair it with jasmine rice, and ah! I can taste it now!
Here's how to make mom's Harris Family Roasted Pumpkin Soup:
Preheat oven to 350 degrees . Carefully halve the pumpkin and scoop out the insides.
Slice each pumpkin half in half to make quarters. Brush or rub 1 tablespoon olive oil over the flesh of the pumpkin and place the quarters, cut sides down, onto a baking sheet. Roast for 35 minutes or longer until the orange flesh is easily pierced through with a fork. Set it aside to cool for a few minutes.
Heat the remaining 3 tablespoons olive oil in a large Dutch oven or heavy-bottomed pot over medium heat. Once the oil is shimmering, add onion, garlic and salt to the skillet. Stir to combine. Cook, stirring occasionally, until onion is translucent, about 8 to 10 minutes. In the meantime, peel the pumpkin skin off the pumpkins and discard the skin.
Add the pumpkin flesh, cayenne pepper , and a few twists of freshly ground black pepper. Use your stirring spoon to break up the pumpkin a bit. Pour in the broth. Bring the mixture to a boil, then reduce heat and simmer for about 25 minutes, to give the flavors time to meld.
While the soup is cooking, toast the pepitas in a medium skillet over medium-low heat, stirring frequently, until fragrant, golden and making little popping noises. You want them to be nice and toasty, but not too burnt. Transfer pepitas to a bowl to cool.
Once the pumpkin mixture is done cooking, stir in the coconut milk and maple syrup. Remove the soup from heat and let it cool slightly. You can use an immersion blender to blend this soup in the pot. I prefer to use my stand blender, which yields the creamiest results—working in batches, transfer the contents of the pan to a blender. Securely fasten the blender's lid and use a kitchen towel to protect your hand from steam escaping from the top of the blender as you purée the mixture until smooth. Transfer the puréed soup to a serving bowl.
Thanks Mommy for the awesome recipe and memories!
Autumn at the Arboretum in Dallas is Amazing
There's still time to pack your fall full of fun, and you can do it right here in Texas.
10 Easy Things to Grow In Your Texas Garden
Whether you're an amateur, novice, or pro, these plants are easy to grow in any Texas garden.
Meet Our Latest $1,000 Winners!
From now through October 15, we're giving you 10 chances every weekday to win $1,000 instantly or the grand prize of $10,000!
We'll bring you a new cash code every hour between 8AM and 5PM. When you hear a code, tap
our free app
to enter it for your chance to win.
The more codes you enter, the better your chances of taking home some serious cash like these recent winners.