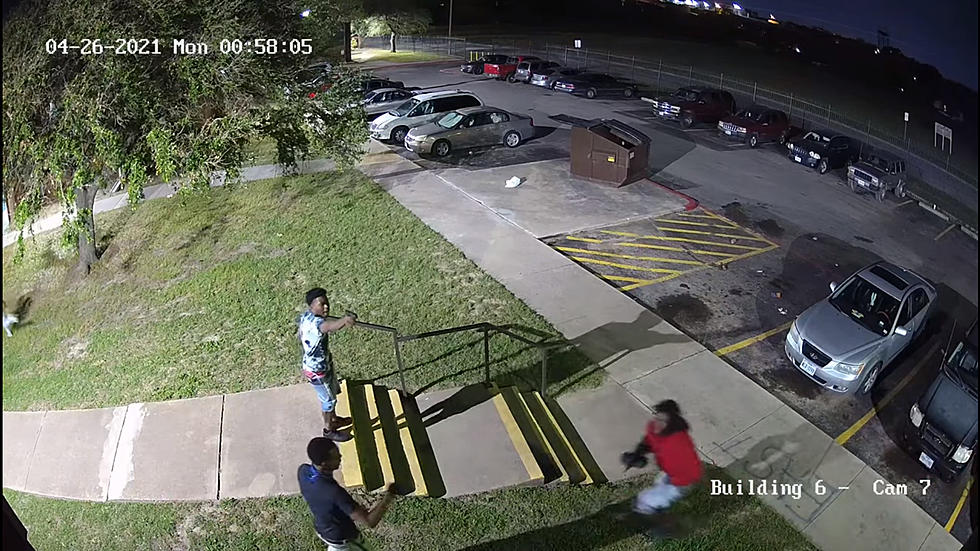 Temple Police Release Video of Shooting Incident, Ask for Help
Temple Police Department, YouTube
The Temple Police Department is asking the public for information regarding a shots-fired incident from back in April. They've even released video hoping someone can help them solve this case.
According to a Temple Police Department news release, the incident happened on April 26th in the 1800 block of E. Avenue K and involved several juveniles and young adults. TPD officers responded to the disturbance call around 1am and found shell casings along with damage to buildings and vehicles, but don't have much else to go on.
Police Chief Shawn Reynolds said, "Thankfully in this incident no one was seriously injured or killed. The level of violent crime we are dealing with is increasing and we can't be everywhere and see everything. We need our community to call when they see something suspicious and to cooperate with our investigators as we work together to reduce and solve crime in our neighborhoods."
Check out surveillance video below, but be warned: you may find the footage disturbing. It shows a group of individuals returning the gunfire at a car that was driving by and shooting at them. It doesn't appear that anyone was hit by the gunfir,  but the car made several passes before driving off.
Temple detectives are asking for information regarding the incident or help in identifying any of the individuals involved. If you have any helpful information, you're asked to contact the Temple Police Department's Criminal Investigation Division at 254-298-5500 or the Bell County Crime Stoppers at 254-526-8477.
You can report anonymously, and a tip to Crime Stoppers that leads to an arrest could net a cash reward of up to $1,000.
LOOK: Answers to 30 common COVID-19 vaccine questions
While much is still unknown about the coronavirus and the future, what is known is that the currently available vaccines have gone through all three trial phases and are
safe and effective
. It will be necessary for as many Americans as possible to be vaccinated in order to finally return to some level of pre-pandemic normalcy, and hopefully these 30 answers provided here will help readers get vaccinated as soon they are able.
14 Texas Eats We Can't Live Without